In Their Own Voice:
Stories and Songs from St. Paul's River, Québec
Salt Cod
Principal Videography / Vidéographie principale
Louise Abbott
Aerial Videography / Vidéographie aérienne
Niels Jensen
Picture and Sound Editing / Montage cinématographique et de la bande sonore
Louise Abbott
Online Edit and Sound Mix / Montage définitif et mixage du son
Vito DeFilippo
Music / Musique
"A Pirate Life," RJ Wilx
Archival Footage / Métrage d'archives
Whiteley Family Collection / Collection de la famille Whiteley
Archival Photos / Photos d'archives
Louise Abbott
Conway Family Collection / Collection de la famille Conway
Library and Archives Canada / Bibliothèque et Archives Canada, PA 193548, PA 193552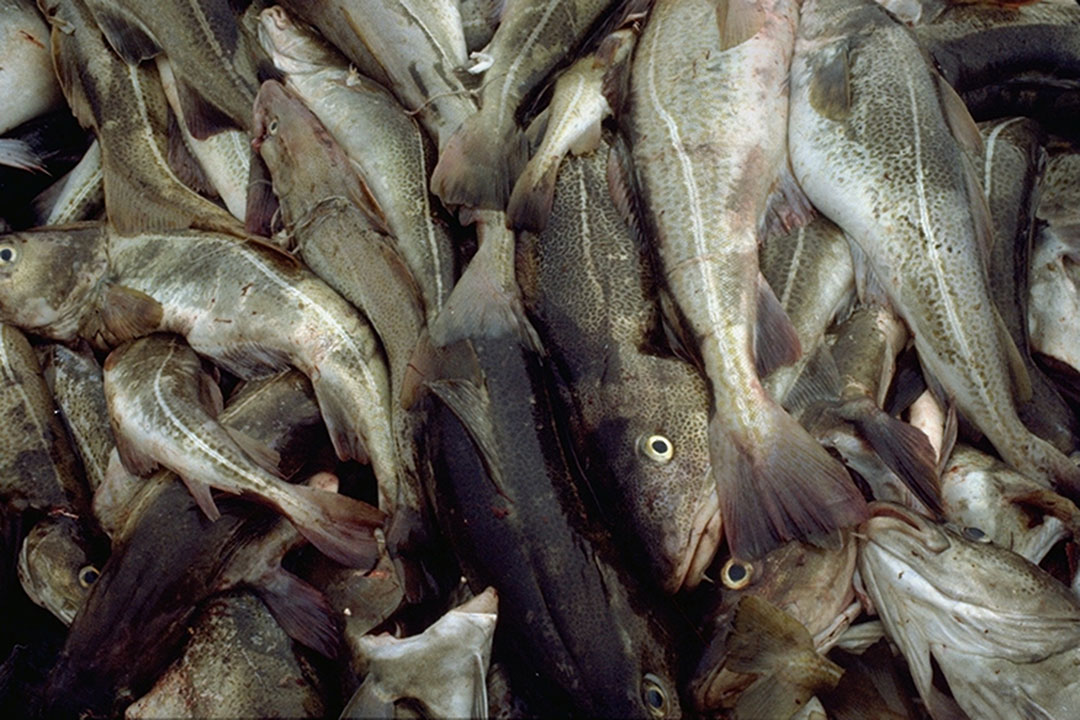 A catch of cod, Salmon Bay, 1983
(Photo: Louise Abbott)
In the second half of the nineteenth century, cod became so integral to the economy of St. Paul's River and other villages on the Lower North Shore that the word "fish" became synonymous with this olive green-and-white bottom feeder.
Cod fishers in the Northern Gulf of St. Lawrence used handlines or purse seines until American expatriate William Henry Whiteley conceived the idea of a much more efficient type of fixed fishing gear. "Looking over my records," he later wrote, "I find that in 1871 I first fished the cod trap."
Whiteley relied on the trap fishery to keep expanding his salt-cod business on the island of Bonne Espérance in the vicinity of St. Paul's River. Independent local fishers adopted the cod trap, too, exchanging fish for essential supplies with traders aboard schooners from Quebec City and Halifax.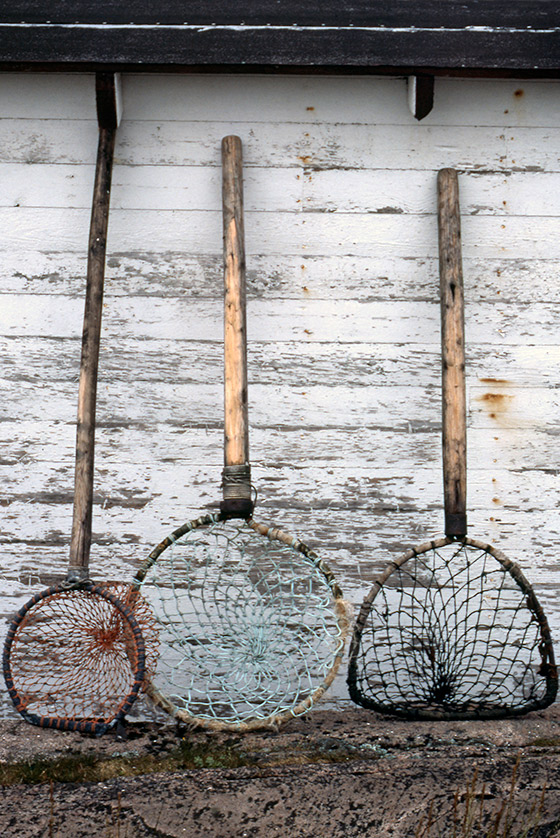 Dip nets were traditionally used on the Lower North Shore for several purposes, including transferring fish from a cod trap into a boat or handling cod in a storage shed.
(Photo: Louise Abbott)
Over the generations, fish buyers came and went, but fishing practices remained largely unchanged on the Lower North Shore. Men, women, and children all pitched in to ready the cod for market—cleaning, salting, washing, and sun drying it. "Soon as you was big enough to lift a fish, you'd be at it," long-time St. Paul's River resident Percival Keats recalls.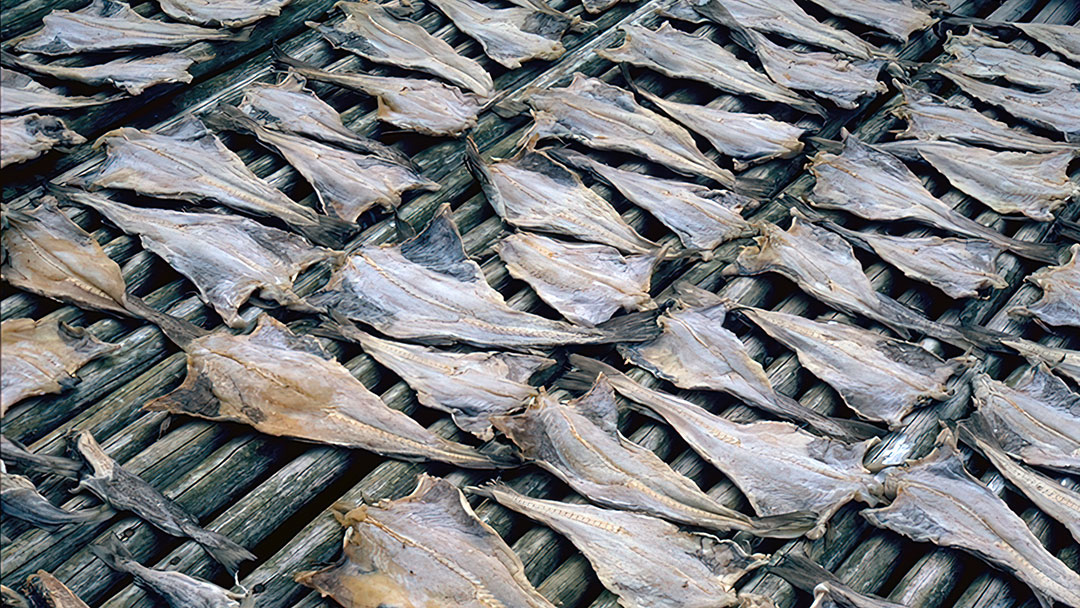 After salted cod had been washed, they were spread on rocks or on wooden platforms—"flakes," they were called—to be dried in the sun.
(Photo: Louise Abbott)
As the twentieth century wore on, cod catches and prices continued to fluctuate, producing prosperity or privation. In the 1970s and 80s, provincial and federal authorities set out to modernize fishing operations on the Lower North Shore. The Quebec government offered incentives to replace open boats with longliners, which were fitted with sophisticated gear like fish finders and furnished with living quarters below deck. Cod traps gave way to gill nets, longlines, or trawls. Skippers and their crew followed migrating cod, fished for longer periods, and contended with harsh conditions at sea more safely.
The Canadian government, meanwhile, built plants to process fresh fish in various coastal communities, including St. Paul's River.
The adoption of new technologies for fishing and fish processing ended the traditional inshore cod fishery and attendant way of life, including families' seasonal migration to houses on islands or headlands closer to the fishing grounds than mainland villages.
In the Roman Catholic liturgical calendar, August 15 is the Feast of the Assumption, which commemorates the ascent of the Virgin Mary to heaven at the end of her earthly life. On this holy day, the faithful are expected to refrain from work and attend Mass. In addition to feasting, a blessing of the summer harvest has traditionally taken place.
In Newfoundland and Labrador, the Feast of the Assumption, or Lady Day, as it's known there, took a different turn in the 1830s. At the request of a Newfoundland bishop, the reigning pope gave permission for fishermen to go to sea on Lady Day and raise funds for the church with fish sales. In many communities, parishioners held suppers and dances in parish halls after the catch was processed.
In the twentieth century, St. Paul's River residents put a new spin on Lady Day. They introduced Ladies Night on August 15 on Caribou Island and at Salmon Bay to celebrate the cod-trap fishing season. Guests from as far away as Blanc Sablon would visit various houses in succession, partying and dancing to tunes played on accordions, fiddles, and mouth organs.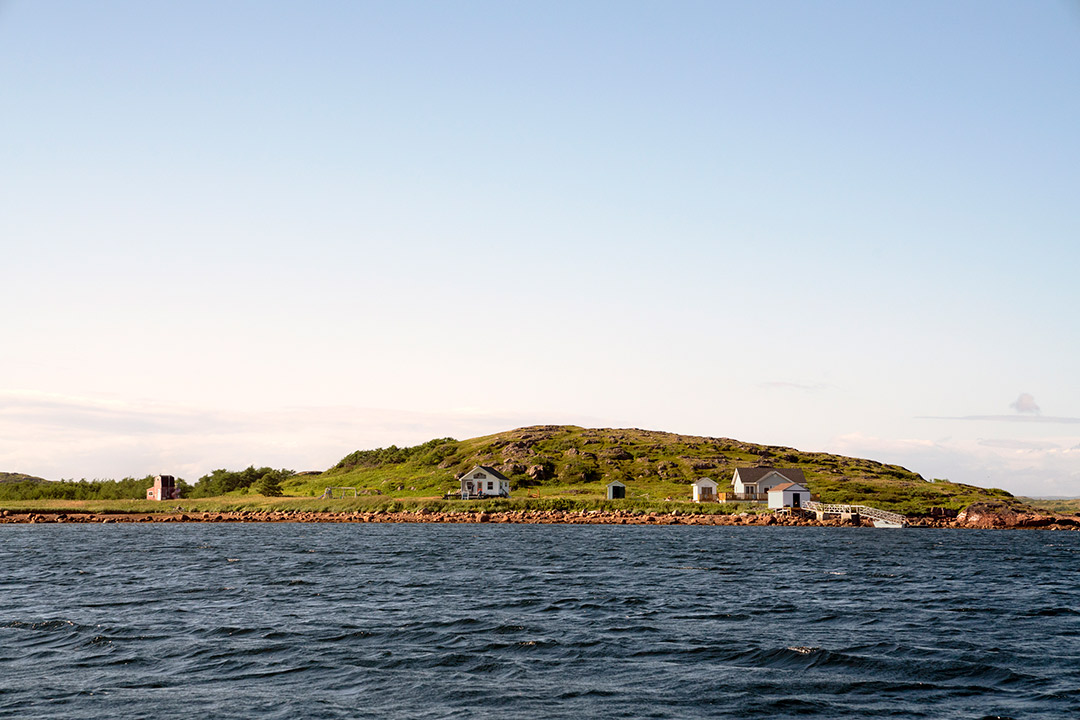 Caribou Island
(Photo: Niels Jensen)
"My grandfather and my father were the founders of Ladies Night on Caribou Island," Tony Roberts recalls. "My father told me it was a time to celebrate the good luck they'd had fishing.
"Where's the lady connection? The ladies—my mother, for example—worked harder than the men. They cooked, they cleaned. They served the sharemen [crew members who shared profits with the boat owner]—cooked their meals, washed their clothes. And there weren't the amenities for housework. Then they'd go down and help with the fish. My mother used to head codfish. So, if there was a successful season, the ladies celebrated as much as the men.
"I remember Ladies Night quite well. They had the old-time booze—moonshine. And they had square dancing. My father was a fiddle player; he was very good."
Percival Keats recalls kitchen parties at his Uncle George's house and Uncle Levi's house on Ladies Night at Salmon Bay. "People from Newfoundland who were fishing in schooners here would join in. Some evenings were wild!"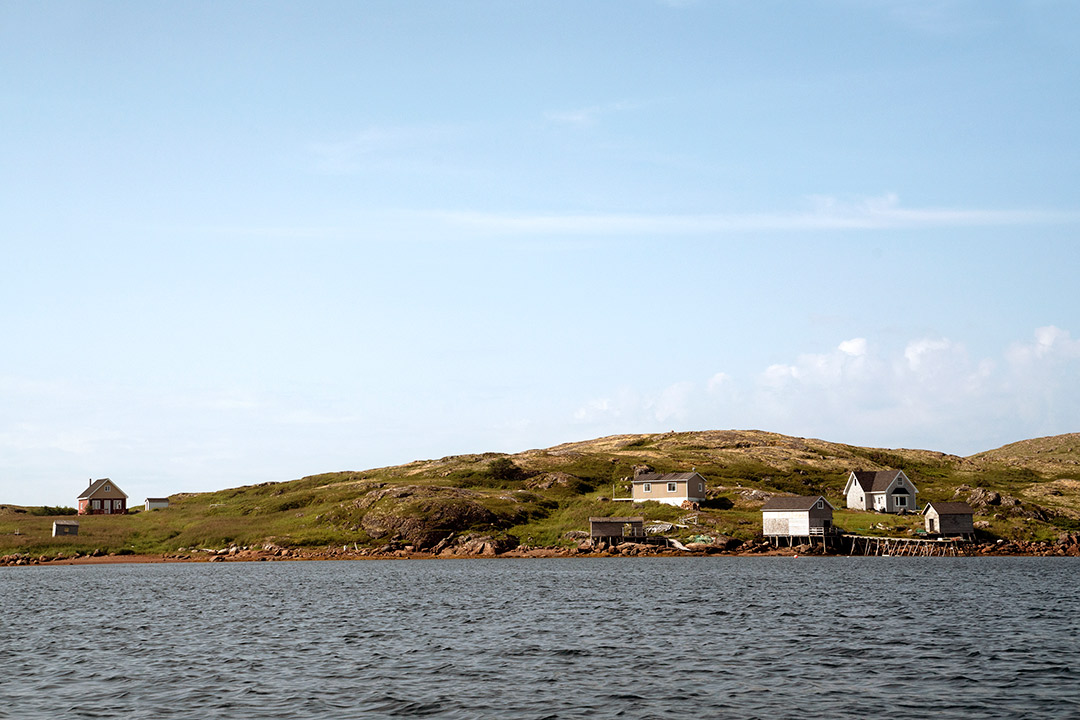 Salmon Bay
(Photo: Niels Jensen)
The end of the cod-trap fishery decades ago ended Ladies Night. "It was a big, big occasion," Tony Roberts says wistfully. "It's too bad the tradition has gone."
"A Vanishing Breed"
Don Wellman
(Text: Louise Abbott)