In Their Own Voice:
Stories and Songs from St. Paul's River, Québec
The Whiteleys of Bonne Espérance
Videography (1993 interview with Mary Whiteley) / Vidéographie (entretien avec Mary Whiteley, 1993)
Patricia Whiteley (1936-2016)
Videography / Vidéographie
Louise Abbott
Aerial Videography / Vidéographie aérienne
Niels Jensen
Picture and Sound Editing / Montage cinématographique et de la bande sonore
Louise Abbott
Online Edit and Sound Mix / Montage définitif et mixage du son
Vito DeFilippo
Music / Musique
Patrick Judge singing / chantant "Concerning One Summer in Bonay I Spent"
MUNFLA tape C3575/78-239
With thanks to Diane Goldstein, the Judge family, and Aidan O'Hara /
Avec des remerciements à Diane Goldstein, la famille Judge et Aidan O'Hara
"Irish Hornpipes," Richard Heacock
Archival Footage / Métrage d'archives
Whiteley Family Collection / Collection de la famille Whiteley
Archival Photos / Photos d'archives
Library and Archives Canada / Bibliothèque et Archives Canada, C 76171, PA 194902, PA 193548, PA 187168
Whiteley Family Collection / Collection de la famille Whiteley
Everything happened at Bony [Bonne Espérance]. Everything. Nothing happened here in St. John's. You just walked to school every day and did homework and so on. But life really began when you got to Bonne Espérance. We couldn't wait to get there. You'd take the train to Corner Brook and then get the boat to Flower's Cove. You'd cross the Strait of Belle Isle, and the steamer would bring you up to Bony. It was the happiest time of our life.
Mary Whiteley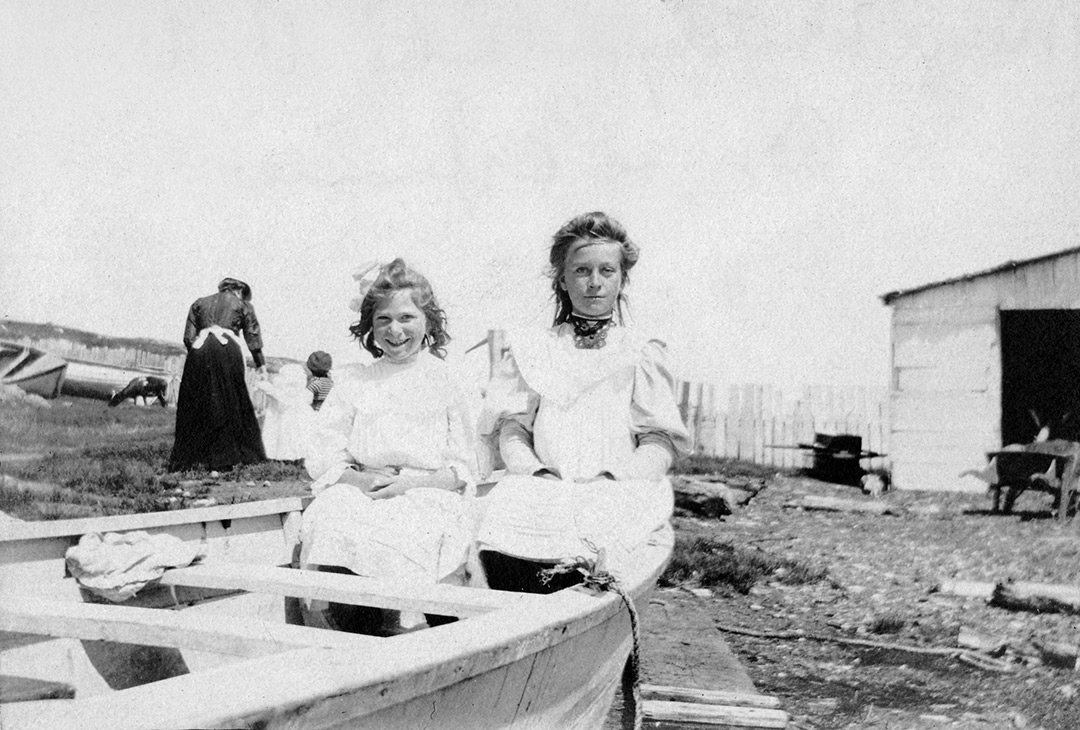 Mary Whiteley (at left) and Katie Thoms on Bonne Espérance in the summer of 1909
(Photo: Provincial Archives of Newfoundland and Labrador, VA 4-66)
Mary Whiteley (1901–1999) was born into a family that played a pivotal role in the history of the Lower North Shore. Her grandfather, an American expatriate named William Henry Whiteley, became renowned for his inventiveness and entrepreneurship. Her grandmother, British-born Louisa Ann Thompson, became renowned for her hospitality.
In 1855, William Henry set up a salmon-fishing base on the island of Bonne Espérance, off the shore of St. Paul's River. Three years later, during a business trip to England, he made the acquaintance of Louisa. He promised to build her the finest house on the Labrador coast if she would be his bride. (At that time, the Lower North Shore was referred to as the Canadian, or Quebec, Labrador coast.) Louisa accepted his proposal, and William Henry kept his word. But not right away.
More than a decade passed before the Whiteleys exchanged modest quarters for a spacious home on Bonne Espérance. It became a magnet for visitors to the region. "Its white paint attracts one from the outside, while a cosy fire and a cup of hot tea are always handy within," Winfrid Alden Stearns wrote in Labrador. "Mrs. Whiteley is quite ready to welcome a 'newcomer,' and the hearty, rosy children are as delighted to find a stranger to take notice of them as can be imagined. The sitting and dining room are combined; a large, square, or rather oblong, stove heats the room, and there are plenty of chairs, stools, benches, and an easy lounge."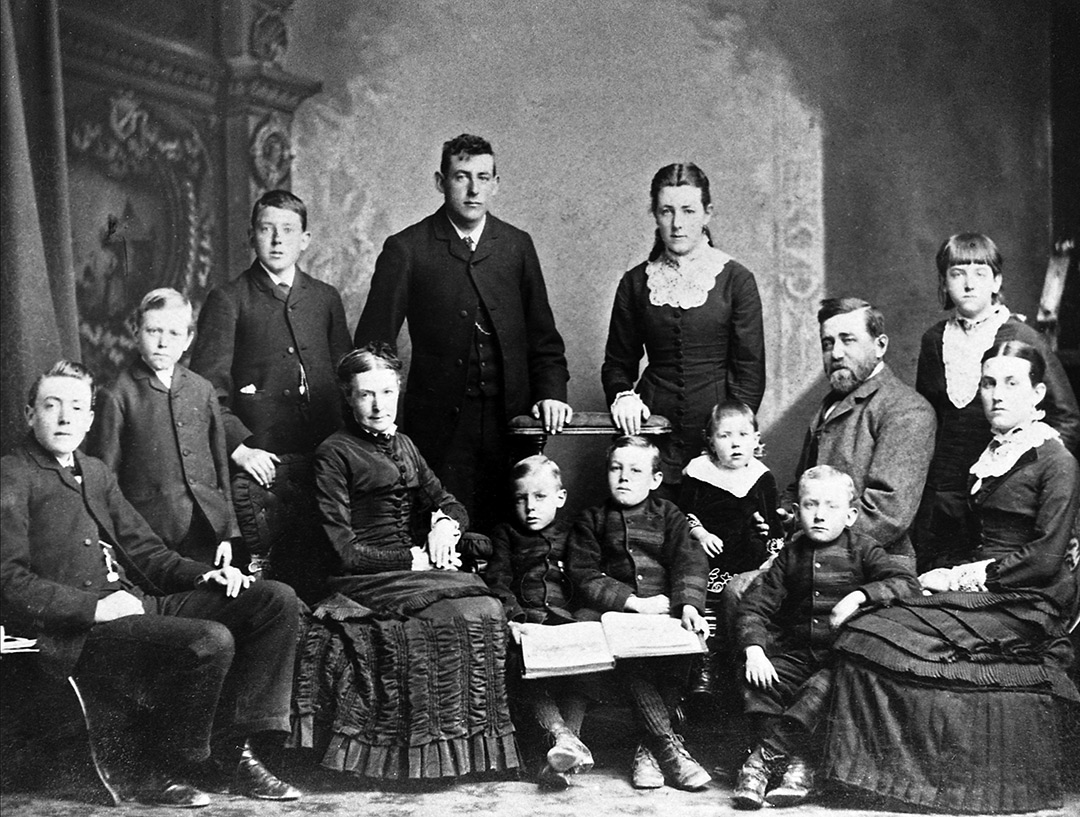 Louisa Ann (Thompson) Whiteley, William Henry Whiteley, and their children, 1881. Louisa bore twelve children; ten survived into adulthood.
(Photo: Collection of Patricia Whiteley)
By this time, William Henry, who was commonly known as Bossy (Louisa's affectionate nickname for him), had established a cod-fishing business on Bonne Espérance. He had also developed a type of fixed fishing gear—the cod trap—for catching cod in inshore waters. The "leader net" stretched from the shore to the entrance of a box-like net through which the fish could swim and be trapped. Floats at the top and lead weights at the bottom kept the netting upright, and ropes anchored to the sea bottom kept it in position.
A cod trap could be left to fish on its own while fishermen pursued other tasks, such as processing fish caught previously. It could take a large quantity of fish in a short time during the main inshore cod run.
Fishermen traditionally hauled in their cod trap during an ebb tide, when the water moved away from the shore and helped to keep the fish in the trap. During the peak of the season, they might haul it in two or even three times a day.
The cod trap revolutionized the cod fishery not only on the Lower North Shore but also in Labrador and Newfoundland. Its success enabled William Henry to hire a growing number of fishing crew and shore workers.
In 1881, the Whiteleys established a home in St. John's, Newfoundland. But they continued to spend summers on Bonne Espérance. After William Henry became an agent for the Newfoundland firm of Job Brothers, he expanded his operations rapidly. By 1892, he had 128 employees. Most came from Newfoundland to Bonne Espérance for the fishing season. Some ended up moving to the Lower North Shore permanently.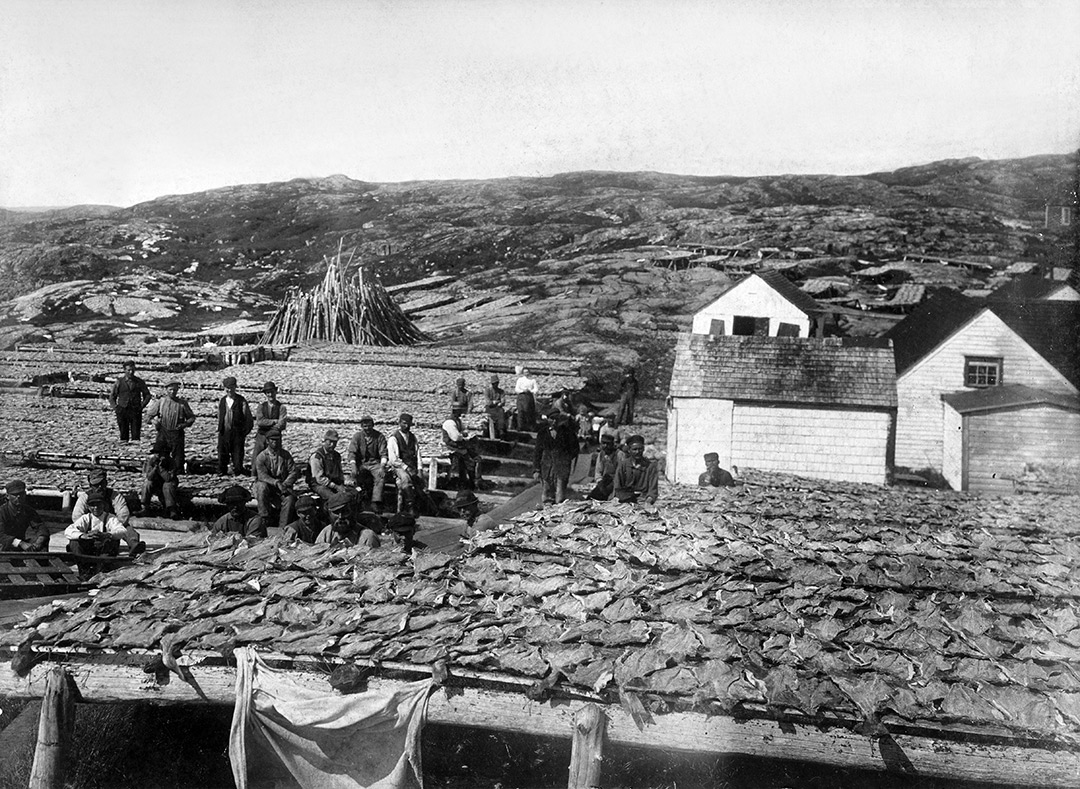 Workers surrounded by drying cod on wooden platforms, or flakes, pose for a photo on Bonne Espérance.
(Photo: Provincial Archives of Newfoundland and Labrador, VA 85-4)
William Henry maintained an active role at his fishing post until shortly before his death in 1903. Three of his sons—Edward, George, and John—kept up the business for many years. After his two brothers died, Captain George Whiteley—Mary Whiteley's father—sold the post in 1945 to the Standard Fish Company of Montreal. The company engaged residents of the village of Saint Augustine to oversee the business there.
By the mid-1970s, fishing operations had ended, and the buildings on the island were abandoned. Today, there are few remains.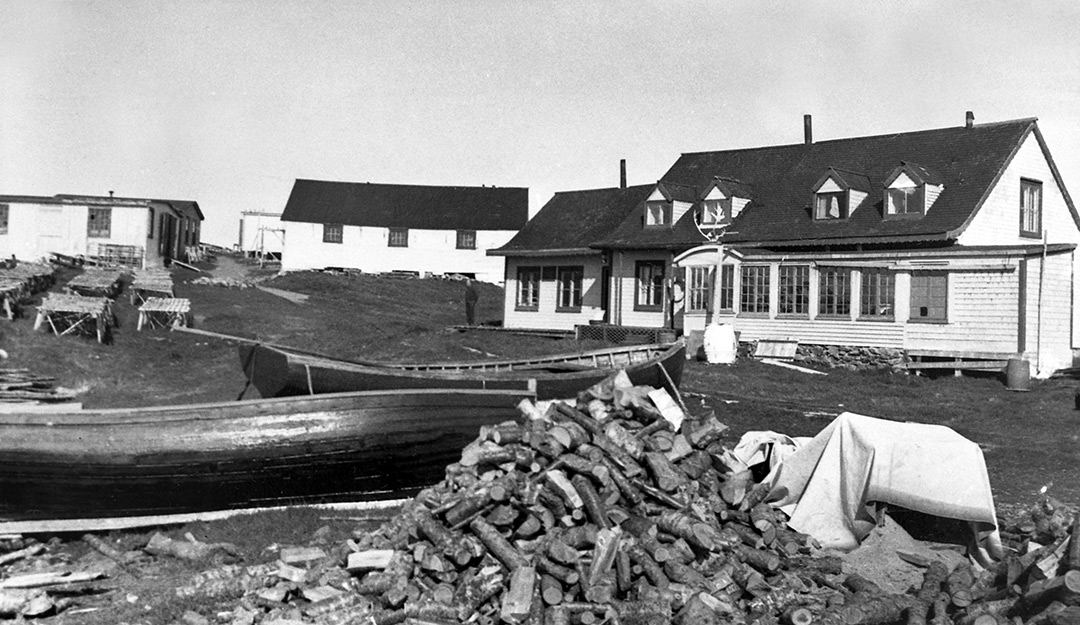 This undated photo shows the house that William Henry Whiteley built on Bonne Espérance with a later addition at one end.
(Photo: Collection of Stark Whiteley)
Older residents of St. Paul's River still remember the cod-fishing post on Bonne Espérance as well as the onetime Whiteley residence. Local historian Garland Nadeau visited the island as a teenager in the late 1960s. You can listen to his recollections.
(Text: Louise Abbott)